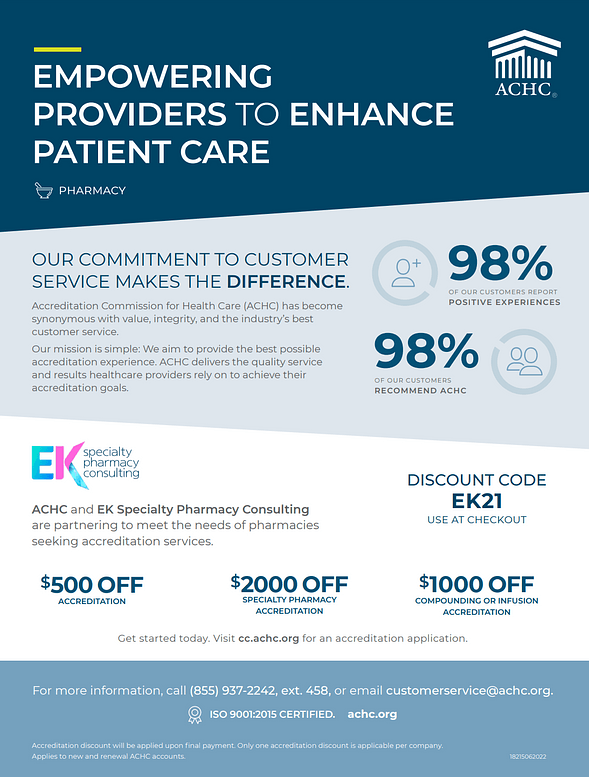 Accurate Gap Analysis through Comprehensive Mock survey performed by active surveyors.
Starting with a deep analysis of the total opportunity and existing operations, EK develops a thorough understanding of the organization.
EK utilizes an accurate, comprehensive gap analysis tool that examines your organization's compliance with each element of accreditation standard.
EK's comprehensive Gap Analysis executive report will help you to gauge readiness to start the accreditation process, create the best strategy via efficient time management to maximize utilization of internal resources and prevent duplicate work or missing requirements.
Another significant requirement of the accreditation is Quality Management/Performance Improvement (QM/PI) program.
QM/PI program is not be a goal but a tool to achieve your goals. Doing all the work for the sake of meeting the accreditation requirements is not useful. The energy we spend to collect and measure data should make differences in your services. The measures should capture the full scope of your practice in a reliable way and to demonstrate the value of your specific services to providers, payers and manufacturers.
With EK, you will adopt strong quality and value initiatives that will bring significant improvement in your services including clinical outcomes, cost reductions, patient-based measures such as patient satisfaction and patient reported outcomes, safety, care accessibility and compliance throughout.
EK will assist you to address high priority care areas that are meaningful to your pharmacy services.
EK's QM/PI Program is highly effective, yet the process is simple and easy to implement which is important to improve and continue such quality improvement activities.
EK's QM Program specialist will coach your QM director and participate in the QM/PI committee meetings to ensure that you are effectively utilizing the program while maximizing the benefits.
Quality is your competitive advantage. You will be able to prepare and share proven improvement data with the providers, payers and manufacturers.
Policy makers and health plans seek value-based management of specialty drugs.
How can you thrive in the era of value-based health care?
Outstanding Patient Management program is a key element for success as well as a crucial requirement for accreditation.
Specialty pharmacies are required to demonstrate their ability to improve clinical outcomes and reduce cost to be included in payer networks, earn referrals from prescribers, and obtain Limited Drug Distribution agreements from pharmaceutical manufacturers and also required to measure outcomes to maintain accreditation from leading accreditation agencies.
With EK, you will develop an individualized Patient Management (PM) program that is tailored to your business model, the current operations and the focused disease states.
Features of EK's PM program include
Therapeutically focused clinical assessments and care plans, detailed medication reconciliation and monitoring effectiveness, adverse effects and adherence; this will allow pharmacists to deliver data-driven interventions including reducing unnecessary hospitalizations or adverse events

Easy to operationalize; EK's simplified process will reduce pharmacist's time to complete each required clinical activity

Easy to incorporate into pharmacy software program for required data tracking and reporting
Remember, this individualized, internally developed clinical program will be the core of your specialty pharmacy business.
EK will help you to promote patient engagement and maximize clinical outcomes and efficiencies.
EK will assist you in presenting these exceptional PM programs and the outcome data to your prospective referral sources, payers and manufacturers.
Why accreditation? And which one? Difference between "Do It Yourself" vs Partnering with EK?
You may have many questions.
Whether it is your initial accreditation, reaccreditation, transitioning from another accreditor, or dual accreditation, EK will provide clear guidance to help you make the right decision. Contact us for a 30 minute-complementary consulting session.
Accreditation is crucial in demonstrating your organization's commitment to quality services and patient care. Accreditation is typically required to gain access to specialty payor networks and limited distribution drugs.
At EK, all accreditation support services are provided only by principal consultants who are ACHC Certified Consultant Pharmacists & ACHC Surveyors. You will receive the best quality service from the experts.
"Give a man a fish, and he'll eat for a day. Teach a man to fish, and he'll eat for a lifetime."
EK's educational approach will unlock your employee's potentials and enable them to deal with the unknown.
In addition to providing tools and solutions to promptly implement essential programs, EK will provide clear interpretation of each standard and educate your key members on requirements compared to the industry best practices throughout the project.
With EK's educational approach, you will be able to connect the dots between each standard with your operations and develop plans that are meaningful to your organization with clarity and confidence.
You will eliminate inefficiencies or unnecessary tasks caused by any uncertainty of each standard requirement and focus on what matters instead.
EK provides coaching to empower your key members to best perform towards achieving goals. Your staff will closely interact with EK consultants throughout the project.
Your staff will understand the full scope of the accreditation standards and apply the acquired knowledge to develop advanced programs and upgrade existing ones.
Due to EK consultants' hands-on experiences as pharmacy executives, compliance officers, pharmacy directors, clinical pharmacists and QM directors, EK consultants understand every element of specialty pharmacy operations.
EK will be a vital part of your project team by coaching your key players as well as providing most up to date information, tools and skill sets.
With EK, you will develop
A complete set of Policies and Procedures that are simplified policies to avoid unnecessary details which often lead to non-compliance with its own policies and updates to reflect your current operations.

Simplified essential toolkits that save personnel time while meeting all requirements.

Skill sets that will help you to develop the advanced programs efficiently and accurately.

Patient Management (PM) and Quality Management (QM) Programs that can be efficiently and effectively implemented. Your outstanding clinical and financial outcomes will ultimately be the strongest marketing and payer access strategy.

EK's templates that are designed to be easily incorporated into your pharmacy software program. EK will assess if EK's PM, QM/PI programs can be incorporated into your pharmacy software program.
EK identifies opportunities, targets and obstacles and takes clinical, financial, regulatory and operational factors into account to develop personalized plans that fit your organization's unique business models and meet your objectives.
"The moment your organization signs the accreditation agreement, the clock starts ticking."
EK thoughtfully constructs a project timeline to achieve timely accreditation and determine how specific tasks will be assigned to between your team and EK. EK's customized plans will ensure prompt execution for immediate success (accreditation) and ongoing compliance for long-term sustainability.
Oftentimes, dual accreditation is needed.
EK helps to achieve dual accreditation in a strategic way through EK's One System methods.
You will have "One Unified System" to comply with both standards and achieve dual accreditation in record time while producing the highest quality outcomes and efficiency.
First, EK helps our clients to keep one unified SOPs and programs to comply with both accreditation standards (ACHC and URAC) and align with your organization's operations. Policies will be simplified to avoid unnecessary details which often lead to non-compliance with its own policies, yet they will have a complete crosswalk to ensure all requirements are addressed. Of course, the rest of processes will be unified through required protocols, toolkits, meeting minutes and logs.
EK assists the organization who is ACHC accredited and needs URAC accredited or the other way around.
EK also helps to achieve dual accreditationprocesses in the most cost-effective way.
Initial mock survey provides comprehensive gap analysis with accurate diagnosis to develop customized project plans.
Now, the second mock survey will be performed prior to the actual survey.
At EK, the mock survey will be performed by ACHC active surveyors who stay current on survey trends and up-to-date requirements.
Instead of just providing a mini version of survey or set of survey questions or tips, EK's mock survey simulates the actual survey process. Your "mock surveyor" will review documents, interview your staff and make objective observations by interacting with your staff to fully identify survey risk areas as well as the deficiencies, allowing you to correct the gaps and problem-prone areas prior to the survey.
This simulated survey process will prepare your team to excel during the survey.
With greater confidence, you will be ready for the third one- The actual survey.
Maintenance is crucial not only because accreditation requires ongoing compliance and payers require continuous quality review data and reports, but it affects the quality of your service which is the bottom line of your business and the long-term sustainability.
Upon achieving the accreditation, EK Specialty and the client assess the necessity of maintenance compliance servicesand areas that need support in order to enable your organization to keep up with the latest accreditation standards and continue to improve.
With EK's ongoing support, you will
Effectively utilize the programs developed with EK

Perform continuous quality review

Prepare data and reports that accreditation agencies and payers require

Continue to develop clinical programs as you expand the scope of services

Utilize developed programs for marketing

Support marketing team through strategy meetings and preparation of presentation materials to prospective referral sources

Be prepared for reaccreditation
ACHC and EK Specialty Pharmacy Consulting are partnering to meet the needs of healthcare organizations seeking accreditation services.
EK delivers services based on ACHC's philosophy, of "Educational and Collaborate Approach to Accreditation"
With EK, you will receive discounts on ACHC accreditation application.
Through EK's lean methodology, you will eliminate unnecessary time and expenses.
You will get the accreditation. This is assured; however, how you achieve this is more important because the accreditation will require ongoing compliance. These well-designed plans will affect the quality of services that will get your business far in the big picture.
To meet your goals with limited resources and to reduce the operational costs, EK will thoroughly check your internal resources to maximize their potential and identify unnecessary tasks to eliminate.
All programs are developed to easily operationalize to achieve sustained compliance without burdening your organization. EK's simplified process will save tremendous resources including personnel time.
All meetings are thoughtfully prepared to offer valuable education and achieve substantial progress at each session.
No time or resources should be wasted on unnecessary work. Save the resources for the real duties, patient care and the business development.